DaVinci Gourmet Classic - Amaretto Syrup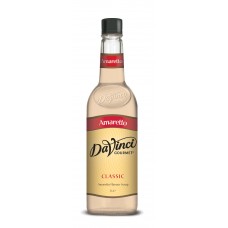 Price: £7.95
Non-VATable
With over 60 classic flavours, all made from pure cane sugar, it's no wonder why customers say Davinci Gormet® are the best. Specially formulated not to curdle milk and to hold up well under heat, DaVinci Gourmet Classic syrups are perfect for virtually any application: espresso–based drinks, brewed coffee and tea, granitas, smoothies, Italian sodas, desserts and more.
Amaretto - The non-alcoholic version of the sweet almond liqueur that hails from Saronno, Italy. It has a slight hint of apricots and a brownish colour.
http://www.davinci-gourmet.com/index.php/support/training-videos
Write a review
Your Name:
Your Review:
Note: HTML is not translated!
Rating:
Bad
Good
Enter the code in the box below: