DaVinci Gourmet Classic - Hazelnut Syrup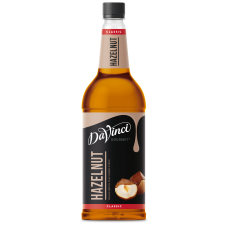 Price: £8.30
Non-VATable
With over 60 classic flavours, all made from pure cane sugar, it's no wonder why customers say Davinci Gormet® are the best. Specially formulated not to curdle milk and to hold up well under heat, DaVinci Gourmet Classic syrups are perfect for virtually any application: espresso–based drinks, brewed coffee and tea, granitas, smoothies, Italian sodas, desserts and more.
Original Hazelnut - The delicious flavour of raw, unroasted hazelnut that is common in many popular liqueurs. Please note that this product used to be named simply "Hazelnut" without "original" at the beginning of the name.
http://www.davinci-gourmet.com/index.php/support/training-videos
Write a review
Your Name:
Your Review:
Note: HTML is not translated!
Rating:
Bad
Good
Enter the code in the box below: